comic: they can't take that away from me

Harry, Sirius.
A short and sketchy comic again. 6 pages.
Warnings: Heavy images(80-100KB each). Post-OotP. Bitter-sweet.
Click the image below to read...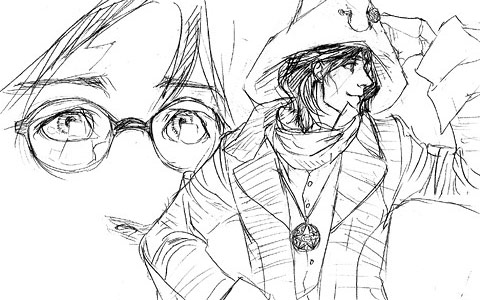 ラクガキまんがアゲイン。6頁。5巻後。↑の画像をクリックしてどうぞ。
---
about the song...
"They Can't Take That Away From Me"
Song by George Gershwin - Lyric by Ira Gershwin.
First performed by Fred Astaire in "Shall We Dance", 1937.
You may find the song's audio/movie files performed by the other singers
i.e. Frank Sinatra, at Y0uTube and such. :-B
The lyric here is based on the version in the album "Fred Astaire's
finest hour", so it's a bit different from the one actually performed in the movie.

「踊らん哉」の中でフレッド・アステアが歌っている曲です。
某動画投稿サイトとかでシナトラのバージョンとかが見つかるハズ。
歌詞は"Fred Astaire's finest hour"というアルバムに収録のものなので
映画の中のとはちょっと違ってます。一応、拙訳など。
The way you wear your hat
The way you sip your tea
The memory of all that
No, no. They can't take that away from me

The way your smile just beams
The way you sing off-key
The way you haunt my dreams
No, no. They can't take that away from me

We may never, never meet again
On the bumpy road to love
Still I'll always, always keep the memory of...

The way you hold your knife
The way we danced till three
The way you changed my life
Oh, no. They can't take that away from me
No, they can't take that away from me

The way you hold your knife
The way we danced till three
The way you changed my life
No, no. They can't take that away from me
No, they can't take that away from me

>> to P.1

君の帽子のかぶり方
君のお茶の飲み方
その思い出すべて
否、否、誰も僕から取り上げる事など出来ない

君の笑顔の輝くさま
君の調子はずれな歌い方
僕の夢を訪れる君
否、否、誰も僕から取り上げる事など出来ない

僕等は2度と、2度と会うことはないだろう
あのでこぼこ道で、愛し合うために
けれど僕はいつでも、いつでもその思い出を....

君のナイフの持ち方
午前3時まで踊った僕等
君がどんな風に僕の人生を変えたか
嗚呼、否、誰も僕から取り上げる事など出来ない
否、誰も僕から取り上げる事など出来ない

君のナイフの持ち方
午前3時まで踊った僕等
君がどんな風に僕の人生を変えたか
否、否、誰も僕から取り上げる事など出来ない
否、誰も僕から取り上げる事など出来ない