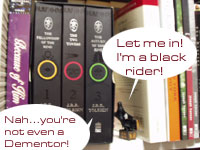 name: wacca.

a bit:
Excitable, forgetful and hasty doodler.

harry potter and me: a history:
Given an used "Sorcerer's Stone" in summer or autumn, 2001. Bought all the other books in one go after reading it. Draw a doodle of Prof. McGonagall, the first HP related pic, in January 2003. Started this website eight months later, after I realized that I was totally obsessed with HP-- especially Harry and Sirius.

this site:
+
You can take and use my images without asking me for any purpose but making money with it. Direct-linking is no problem except in case there is a notice not to do so.
(Not that I mean you can take another artists' arts as well. Please ask them first if you'd like to use their works. Direct linking is normally prohibited.)
+
Checked on Opera7 and IE6.

email: wacca2x4(at)yahoo.com (Please replace "(at)" with "@")